Christ Church Christmas Fair- an impressive presentation of crafts, jewelry, baskets, white elephants, homemade treats, books, and more that gets everyone into a festive spirit! Held on the first weekend after Thanksgiving weekend.
Visit from St Nicholas- telling tales of 400 AD generosity that inspired the works of Santa Claus- first Sunday of December
Greening of the Church- Sunday before Christmas, the members of the parish gather to gear up for the Birth of Our Savior by hanging, spreading and arranging greens and other floral arrangements around the church.
Birthdays/Anniversaries- we join with those celebrating a birthday or anniversary with a special blessing on the first Sunday of each month. Donations to the "Birthday Jar" go to Ecclesia Ministry in Boston, which serves and supports the large homeless population that gathers on and around The Boston Common.
Garage Sale Can someone's trash be your treasure? Yes! Browse our gently used selection of books, furniture, small appliances, cookware, toys, clothes and more. Bet you will find a bargain! Held in May each year.
Ingathering of plants for spring planting- have you seen our beautiful gardens? Truly a group effort, our gardeners gather eash spring to plant annuals amid the rich variety of perennials that beautify our grounds.
End of Church School Year cookout- our youngest members and their families prepare a feast to celebrate the end of the Church School (and regular school) year with the members of the parish.
Flea market- A wide variety of local artisans and others showcase their wares at CCQ's October Flea market. Come early to find the best selection.
Feast of St. Francis- Blessing of the Animals- In honor of St. Francis' feast on October 4, we celebrate our own love of animals (real and stuffed), with a Blessing that takes place after the 10 AM service.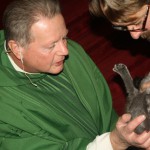 Scout Sunday- Scouts, past and present, are honored and blessed, for their commitment to the community in a celebration of collaboration.