The elected body of officers and vestry members of Christ Church formally meet with the Rector on a monthly basis to discuss the overall direction of Christ Church, to review and allocate funding sources and expenditures and to proactively address the needs of the parish and the community.
Vestry members typically serve a three year term.
Current vestry members include
Rachel S. Collins- Co-Warden: Rachel has been a member of Christ Church since 2006. She began to attend services with her now-husband, who grew up in the parish. She appreciated the parish's energy, history, and openness to newcomers. Rachel was first elected to the vestry in 2010, and was elected Clerk in 2012 and Co-Warden in 2014. In addition to her duties as Co-Warden, Rachel oversees the the Christian Formation and Hospitality Ministry areas. A lifelong Episcopalian, as well as the mother of a young son and daughter, Rachel looks forward to bringing up her children up at Christ Church, especially with the energy they bring to church and the relationships they are building. She believes that active communication among all members of the parish to address concerns as well as accolades makes CCQ work well as a community of faith. Rachel leads the Christion formation and Eucharistic ministries.
Stephen Marcus
Stephen has been a member of Christ Church since 2007, when he sought a neighborhood church with theological openness. In addition to his participation on the Vestry, Stephen is active in the CCQ choir, has chaired the Stewardship committee and was part of the committee to select our current Rector in 2007-2008. He took on the role of Co-Warden in 2016. He lends his experience in finance and real estate to our discussions of the future direction of Christ Church Quincy. He brings his professional talent to lead the Hospitality and Building and grounds committees.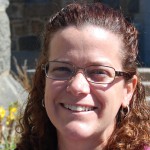 Kristen Poulin- Clerk: Kristen has been a member of Christ Church since 2003 when she was looking for a neighborhood parish that preached diversity, acceptance and inclusion, and where children are actively included in parish life. Kristen initially served as a Deanery rep for several terms, before becoming part of the Vestry in 2012 and Clerk in 2014. Kristen brings her energy, enthusiasm and love of multi-tasking to our Vestry discussions. Kristen heads the Communications and Outreach committees.