The Christ Church Quincy Sunday School uses materials from many different sources. Lesson Plans that Work from the Episcopal Digital Network and Childrens Curriculum from Virginia Theological are our main curriuclum sorces.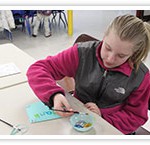 Christian education program for children ages 3 to 11. The curriculum was developed and written exclusively for the Episcopal Church to encourage the process of faith formation.
lOur goal is to teach children the way of Christ, not only in the church but also in the world, and to give them a solid grounding for future youth formation programs, which in turn will prepare them for Christian adulthood.
Christian education- the great stories of the Old and New Testaments are the core of the lessons, with special emphasis on the life and teachings of Jesus

Worship- information about church history, seasons of the Church year, church practices, use of The Book of Common Prayer, our Anglican and Episcopal tradition, the principal sacraments of our Church: Holy Baptism and Holy Eucharist

Service- applying Christian principles to our lives as essential to faith. Includes the principles and practices of: prayer, outreach and service, Christian ethics, and contemporary issues
The Christ Church Quincy Sunday School incorporates age appropriate activities, plus active discussion of the day's lesson.